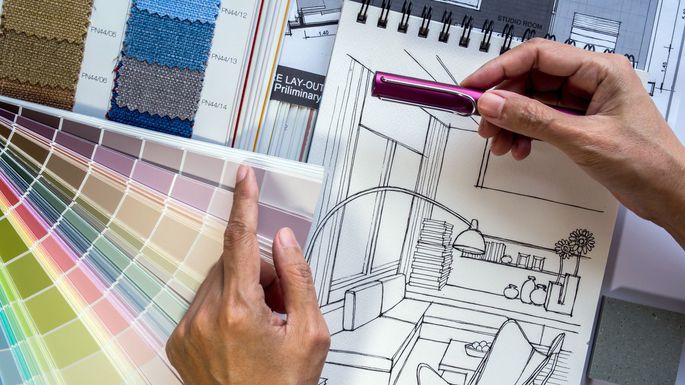 Interior Creations by Rachel is not your typical interior design firm. Rachel uses her 20 years of experience to help make your home or business decorating dreams come to life. Rachel gets to know you and what you like and what your decorating dreams are. In addition, she is your biggest advocate!
Hiring an interior decorator, and in particular, Interior Creations by Rachel, is a decision that will help you in so many ways. Let's count 7 of those ways:
SAVE MONEY. Unlike other designers, Rachel passes on her discounts to you. She'll find you great deals on furniture, contractors, window treatments, and has one of the lowest designer rates in the area. In addition, your home or business's value will increase because of her work. Whatever your financial situation, all of us want a great deal – and working with Rachel is just that!
PROFESSIONAL ASSESSMENT & COACHING. Rachel has won awards with the Chicago Tribune, she's been featured in Nashville magazines, she's helped decorate dorm rooms and huge banquet halls. There isn't hardly anything she hasn't seen or done and any style or personality she can't decorate for. Hiring a designer allows you to tap into that high level of professional and diverse experience.
SAVE TIME. Decorating something small or big takes time. If you aren't adept at design process, every step takes an inordinate amount of time to figure out and execute. In addition, inexperienced home owners are very likely to make a mistake. The financial and time cost of a mistake adds to the overall time black hole as well. Experienced, professional designers are able to not only do a lot of the work for you, but expedite the process while eliminating time-sucking mistakes. One of the top responses of Rachel's clients is how she saved them so much time and money.
LIAISON. A designer will be able to build a stronger bridge between you and your architect or contractor early on and can head off design misses in your overall plan. This is crucial in managing time and money. A designers job is also to think about things you may overlook. Being your advocate is one of Rachel's most fulfilling roles in working for and with you.
CONTACTS AND RESOURCES. Home owners are consistently looking for good deals and good people. We've all been burned by contractors that didn't show up or handymen that weren't very helpful. A great designer has established relationships, contacts and resources that can be trusted for their character, quality and trustworthiness. Rachel has just those relationships, contacts and resources that will prove to be a big help in your project.
WOW. When a great designer gets done with your home, you look at the transformation and say, "Wow". Whether it's "wow" look at the difference that color choice makes, or the "wow" of a new granite counter top, or the "wow" of a new construction banquet hall, the out of the box and final outcome goes to a new level with a great designer. Making your decorating dreams come to life is the definition of wow!
HOME SALE. Pricing a home correctly is the most important aspect of selling a home. However, having it staged correctly has a huge effect on the impression of the potential buyer. The reality is that home owners need an outside consultant to help them and an interior designer with staging experience will pay huge dividends. Rachel loves seeing homes sell quickly because they are staged for the best possible presentation to prospective buyers.
Many home owners have told Rachel through the years, "why didn't I call you sooner?". We believe that if you really examine these 7 reasons carefully, you'll be calling an interior decorator when you need assistance this year!
---
Interior Creations by Rachel
www.interiorcreationsbyrachel.com
615.682.1250